Heading off to LaGuardia Airport for a big business trip? Or maybe you're going to visit family for the holidays. Don't sweat it! We've got everything you need to make the most of your experience at LGA.
You've probably never wondered about the history of LaGuardia Airport (or even knew it had one), LaGuardia Airport has been the doorway to New York City for over 80 years. 
However, due to inconsistencies in service, travelers have questioned this title. How is it that one of the busiest airports in the country is also one of the worst? 
The outdated facilities and lack of free Wi-Fi, as well as the leaking ceilings, cramped corridors, frequent rodent sightings, and broken escalators, can make anyone want to leave.
But I believe you'll be surprised because all of that has changed, as a result of the much- needed renovation that began in 2016. All terminals have been redesigned to provide a 21st-century passenger experience, including modern customer amenities, cutting-edge architecture, larger gate areas, and a unified terminal system. 
Travelers now have several reasons to prefer LaGuardia airport over other regional airports. 
However, New York City remains a bustling metropolis. With over 8 million residents and over 50 million visitors each year, it's no surprise that the city has so many airports and air traffic. 
LaGuardia Airport, which handles over 30 million passengers per year, is one of the busiest in the country. This means that if you are flying into New York City, you must plan your trip carefully.
Having said that, here are 4 tips for an easy trip through LaGuardia Airport:
1. Know The Ideal Time to Travel
Forget about the traditional "rush hour" and plan your travel to take advantage of the traffic and the airline's on-time arrivals. By far the best time to travel through any airport is typically the early morning.
It is best to go to LaGuardia Airport between 4:30 am to 6:00 am. for a less stressful flight. This is the time with the lowest number of passengers on average. 
But If you're looking for the cheapest flights, it's better to travel at night because most airlines offer cheap tickets after midnight.
What's the downside? Many taxis and other modes of transportation are sleeping or resting, making it difficult to find them.
If you're not sure what time of day is best for you, the black car service can help. They will come to your preferred time and location to pick you up and safely transport you to your destination.
However, If you want to avoid delays and cancelations, the best time to fly from LaGuardia Airport is between 6:00 am and 11:00 am or after 1:30pm. There are very few delays during these hours.
You can also book flights between weekdays for better travel and hassle-free flights. The weekends tend to be busier at airports, so it makes sense to avoid them when possible.
Are between 7am and 8am and between 5:30pm and 7:30pm.
Monday, Tuesday, Wednesday and Thursday.
Friday, Saturday and Sunday.
October through May is the best time for flying into LaGuardia Airport. But if you want to avoid crowds on your trip out of town, skip November through January.
2. Know The best way to get there
Getting to LaGuardia Airport is easy, as long as you know how to get there. Here are some options for making your trip to the airport a breeze.
The following options are available:
The M60 stops at every airport terminal and runs between LaGuardia Airport and Grand Central Terminal in Midtown Manhattan. Buses run 24 hours a day and take about 40 minutes to arrive at Grand Central Terminal (or about 30 minutes to reach Lexington Avenue/53rd Street).The Q70 stops at airport terminals C and B.
Taxis are available outside of baggage claim on the ground level of the airport. Taxi fares from LGA to most parts of Manhattan cost around $30-$40 during off-peak hours and $50 during peak hours like 6:00 AM-8:00 AM.
Some taxi drivers will try to charge you more, so make sure you agree on a price before getting into the cab.
If you're taking public transportation, the AirTrain is your best bet. It connects directly to the terminals and operates 24 hours a day, seven days a week.
If you're driving yourself, make sure you know where you're going to park before you get to the airport. LaGuardia Airport has three main parking areas. Terminal A's parking lot, Terminal B's parking garage, and Terminal C/D parking garage all have classified accessible parking places, one for a quick (up to 24 hours) and one for long-term parking (more than 24 hours) . You can also check LaGuardia Airport Parking to see if there is still a parking space available.
Option 5 : Black Car Services
For your convenience, black car service to LaGuardia Airport is the best option. You'll arrive at the airport on time and ready for your flight. The black car service will give you a comfortable ride and make getting around town even easier.
The black car service (like Sonic D Limo) is a group of professionally trained drivers who are ready to handle all of your transportation needs, from making a reservation online to hiring them once you arrive.
They understand that airports can be chaotic, but they've designed their service with feedback in mind, so that not only do they serve you well, but so do your fellow passengers.
3. Understanding what to Bring and Wear to the airport.
90% of people at Laguardia Airport have the same problem because they don't know what to carry. This may cause you to become trapped in the security line and miss your flight. That is why I am here to assist you in avoiding the same disaster.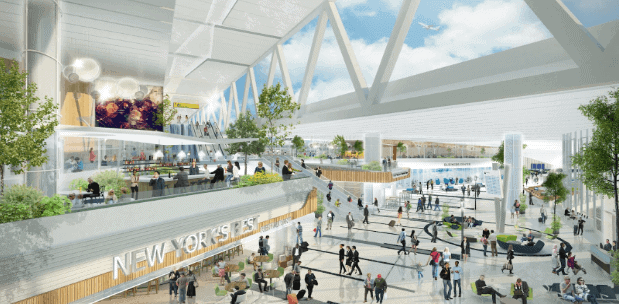 Here are a few items you should bring with you:
Bringing a small backpack that can help contain all your belongings so they don't get lost or broken by airport security.
Bring comfortable shoes. You may need to wear shoes that are not quite as comfortable as your everyday pair of sneakers. For example, you may need to wear slip-on shoes so that you can take them off quickly when going through security checks and boarding the plane.
Make sure all liquids are in containers of 3.4 ounces or less and placed in a 1-quart clear plastic zip-top bag. Place these items in a separate bin from your carry-on bag as they will be screened separately from the rest of your belongings.
Medications: Pack your medications in their original packaging, along with prescriptions and doctor's notes. This will help avoid any misunderstandings at security or medical checkpoints.
A portable charger —If your phone battery dies while waiting for your flight, it's not fun having no way to keep yourself entertained until it's time to board the plane! A portable charger will give you an extra boost in case your phone dies unexpectedly
Place sharp objects such as scissors or tweezers into your checked baggage rather than carry-on bags. You'll also want to check with airport security about the rules regarding sharp objects when flying internationally because these rules may vary by country or airline carrier.
Entertainment: Bring along some books or games so that you have something to do if there's a delay with your flight or if there's downtime during travel (like on an overnight flight). You can also bring along an MP3 player or tablet computer loaded with music and movies; this way, you won't have to listen to other people's conversations or watch whatever happens to be playing on the plane's
Here are some items that you can leave behind:
Batteries — Batteries are prohibited in carry-ons because they can overheat and cause fires in flight, so check them underneath your seat instead of packing them in your checked luggage.
Lighters — There is no smoking allowed on airplanes, so leave lighters at home or in the car when traveling by car or bus.
Leather shoes are not allowed on aircraft because they're considered flammable materials. You'll also want to leave behind any items made from straw or hay because they could potentially cause allergic reactions for passengers with hay fever or asthma.
Food — You can buy food at the airport if there is a delay or a long layover.
4. Knowing the Airlines and Its Terminals
The four terminals of LaGuardia Airport serve different airlines and aircraft routes. Some people may be confused by this, but we're here to help! Let's take a look at the current airlines serving each terminal and the services they provide.
As it was originally built to manage seaplane operations, Terminal A is also known as the Marine Air Terminal. JetBlue and Spirit Airlines are the sole tenants of Terminal A, which is located on the airport's west side.
JetBlue Airways is a main American low-cost airline that positions seventh in North America in passenger numbers. JetBlue Airways is currently based in the New York City borough of Queens' Long Island City area, with corporate offices in Utah and Florida. It is currently operating in both terminals A with Boston flights only and B with all other LaGuardia airport flights.
Spirit Airlines (NYSE: SAVE) is dedicated to providing the best value in aviation. They are the market leader in offering customized travel options that begin with an unbundled fare. This enables our Guests to pay only for the options they select, such as bags, seat assignments, and refreshments. We enable our Guests to travel further and discover more than ever before.
Spirit will operate the following flights from LGA, using its Airbus fleet:
Nashville (BNA), one flight per day, 

Dallas Fort Worth (DFW), one flight per day

Detroit (DTW), up to two flights per day

Four daily flights from Fort Lauderdale (FLL).

One weekly flight on Saturdays from Los Angeles (LAX).

Orlando (MCO), up to two flights per day

Miami (MIA), two flights per day

Two daily flights to Myrtle Beach (MYR).

Phoenix (PHX), a seasonal service until April 16, with one Saturday flight per week.

San Juan (SJU), one flight per week on Saturdays

Tampa (TPA), one daily flight until May 4th, is a seasonal service.
Terminal B is the largest and main area. There are three concourses. It recently underwent a major renovation and now has four levels, including a brand new convention level with shops and restaurants. 
Level 1 provides transportation access, Level 2 for baggage claim, Level 3 for Ticketing and Check-In, and Level 4 for shops and restaurants.
The Eastern Concourse has 20 gates numbered 40-59; Concourse C has 14 gates numbered C1-C14; and Concourse D has 9 gates numbered D2-D10.
In Terminal B, there are several Airlines to choose from:
Air Canada offers scheduled and charter flights for passengers and cargo to over 175 destinations on five continents. Air Canada and its regional partners operate more than 1,530 flights per day to more than 175 cities on five continents. In terms of fleet size, international passengers carried, and revenue passenger miles were flown, Air Canada is the largest Canadian carrier.
American Airlines. In terms of revenue and passengers carried, American Airlines is one of the world's largest airlines. It is the largest airline in the world in terms of aircraft size, revenue, profit, and fleet size. American Airlines serves nearly 350 destinations in over 50 countries with an average of 1,300 daily flights.
Southwest Airlines operates out of LaGuardia Airport Terminal B in Queens, New York City. Southwest Airlines is the world's largest low-cost carrier, and it's no wonder they're so popular. Southwest offers some extremely low fares with the addition of standard perks like free checked bags, inflight refreshments, and award-winning customer service
United Airlines operates nonstop flights from LaGuardia Airport Terminal B to Oakland International Airport, San Francisco International Airport, and Washington Dulles International Airport. They also offer connecting flights from these airports to locations all over the United States and the world.
Terminal C is located on the airport's east side and is connected to Terminal D via a secure pedestrian walkway. Delta's largest Sky Club lounge, with seating for nearly 600 guests, is also located in Terminal C, along with "a gourmet kitchen, premium bar, two food buffets, and two hydration stations," with a year-round Sky Deck and a second premium bar set to open alongside the lounge at a later date.
There are three airlines to choose from in Terminal C/D:
Frontier is dedicated to providing Low Fares Done Right. The Denver-based company operates over 95 A320 family planes, including the largest A320neo fleet in the US, which has the highest level of noise reduction and fuel efficiency when compared to previous models. Frontier will continue to expand in order to meet its mission of providing affordable travel across America, with over 150 new Airbus planes on order.

Delta maintains its own terminal at New York's LaGuardia Airport. It's in Terminal C. You can take the AirTrain for free from the main terminal building to Terminal C, but you'll have to go through security again when you exit. This summer, Delta is the largest carrier at LaGuardia, with up to 255 daily flights to approximately 70 destinations. Delta Air Lines, Inc., or simply Delta, is a major airline and legacy carrier based in the United States. Delta Airlines is one of the world's oldest airlines, headquartered in Atlanta, Georgia.

WestJet Airlines Ltd. is a Canadian airline based near Calgary International Airport in Calgary, Alberta. With an average of 777 flights and over 66,130 passengers carried per day as of July 2019, it was the second-largest Canadian airline, trailing only Air Canada. Clive Beddoe and Jim Young founded WestJet in 1996 with two Boeing 737-200 aircraft and now serves 77 destinations in Canada, the United States, and Europe.
These four tips will help you navigate the new facilities at LaGuardia Airport more smoothly. Although the new LaGuardia Airport is more accommodating, it is also less used than its predecessors. There are new dining options as well as TSA security checkpoints, which should make the entire process easier for travelers.
It may take some getting used to, but once the kinks are worked out, there will be less to worry about. The new LaGuardia Airport simply requires a shift in perspective on the part of the traveler, who will benefit from the shorter commute and higher service levels provided.
We've finally learned how to navigate the LaGuardia Airport to minimize inconvenience, what else can we help you with?
Before you leave, take a moment to Sign Up for your daily dose of travel news and analysis.